Well, knitting in public, if the public is squirrels and the occasional dog-walker.
Last Sunday, Giles and I went out for our yearly breakfast in the local bluebell woods. We take a tasty picnic of croissants, homemade jam (raspberry) and a hot flask of coffee. Giles brings his camera to take some new stock pictures, and I bring a knitting project small enough to fit into my handbag so I can knit on the go. I'm working on the 1940s turban, Greta and as you might be able to see, have almost finished.*
This year our excursion was a bit different. As well as enjoying a very early breakfast (before 7am) in the crisp air, and a lovely wander around admiring the carpet of bluebells and saying hello to horse riders and dog walkers, Giles was taking the opportunity recording his weekly podcast, The Active Photographer.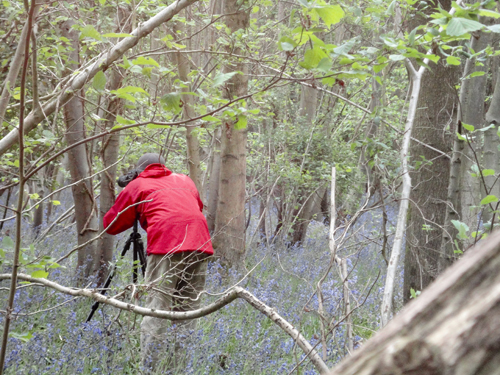 As I was there, I got in on the recording, somewhat. The podcast is a fairly technical photography broadcast; I am a fairly standard amateur photographer, so wasn't there dispensing any kind of photographic wisdom! I acted as an occasional sidekick and dispensed my thoughts on what types of trees were in the woods (whilst I knitted away in the background trying not to clack too loudly). It was a lot of fun though and I got a shout out as 'the knittist'! If you'd like to give it a listen, do hop over to Giles' site. It's Episode #20 – Bluebells at Breakfast.
Giles also has a book giveaway going on at the moment to win The Rough Guide to Camping in Britain. It's a caption competition with a photograph which is just asking for trouble, so you can have some good fun with your comments (don't say that I said so though!)
* I cast off Greta this morning and bought some elastic to sew around the edges today. I'm hoping to get it done tonight and have the feeling that it will be one of those projects that comes together in the finishing as it looks a bit odd to say the least at the moment.
On the Airwaves, and Knitting in Public